Pianos For Sale And Hire
We Sell And Hire Pianos
Pianos For Sale Or Hire
Updated 26th March, 2019
Ask about interest free credit (NO VAT)
RENTAL PIANOS AVAILABLE from £20 per month. Price includes moving and tuning.
ALL PIANOS COME WITH A TWELVE MONTH GUARANTEE AND FREE TUNING.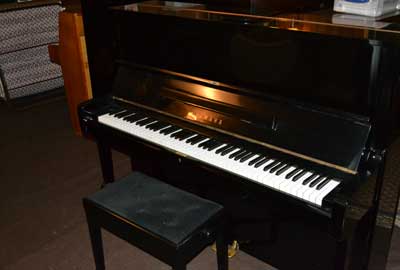 1 - Black Polyester Upright Yamaha U3 Piano.
Very Good Condition.
Plays well at concert pitch.
Holds tune well.
This is the three pedal model and probably the best Yamaha has ever produced, especially with the longer bass strings.
Price £3,000 inludes free delivery within a 50 mile radius.
---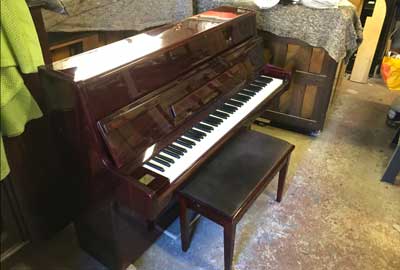 2 -Reid Sohn Piano In Bright Mahogany Case.
Due to come in.
Well looked after.
As new.
POA Can Be Hired
---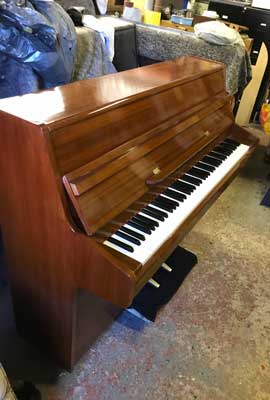 3 - Small Barratt and Robinson (Newly Polished) Upright.
Due to come in.
Overstrung.
Very Good Condition.
POA Can Be Hired
---
4 - Bechstein Upright. Model 10 Rosewood Case.
To be totally overhauled.
POA.
---
5 - Five Foot Chappell Baby Grand In A Rosewood Case.
In Workshop.
Will be available for sale shortly.
This piano is being totally re-strung with an action/key overhaul and a complete French polishing.
Singing tone.
Final price will be around £6,000
---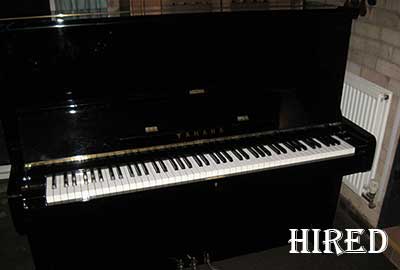 6 - Yamaha U2 Upright
Gloss black Yamaha U2 upright (three pedal model) £3,200.
Excellent clean sound.
In good condition.
Concert pitch.
Suit serious student or hire.
---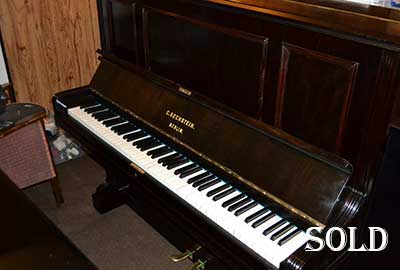 7 - Bechstein Upright Model 9
Restored Bechstein Upright in a fine mahogany case.
Overstrung, concert pitch etc.
Very light touch.
Mellow sound
£3,000
---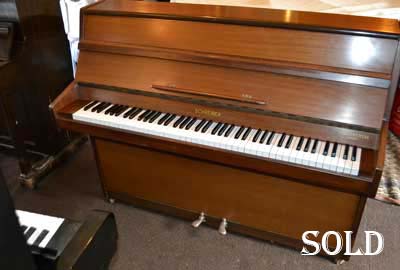 8 - Schreiber Upright Piano
Full iron frame.
Overstrung, underdamper.
Plays well and at concert pitch.
Has been through the workshop.
£400 or hire at £30 a month. Transport included in hire.
Stools
Different s/h stools available: antique, singles, duet, rise and fall, cheapies.
For That Special Piano
It is much cheaper to come with Peter to a piano auction. You have a wide choice and buy at trade prices. For a nominal fee, Peter will happily help you choose the right piano for you.
Short Term Hire
Hire a piano for a special occasion, like a wedding or a production in a village hall. Prices work out cheaper over a longer period because of transport costs.
Peter Tryon
Peter Tryon FMCM., FASC., ARCM., ALCM., AVCM., Cert Ed.
40+ years experience. Regular visits across the county plus parts of Norfolk, Essex, Warwickshire and Scotland (Dumfries area). Tuner for the National Trust, Cambridge University, Forestry Commission outdoor concerts, Suffolk County Council schools, many private schools, piano teachers, etc.
Fully enhanced CRB check and fully insured with £5,000,000 public liability.
Our Contacts
9 Green Close, Drinkstone,
Bury St Edmunds Suffolk IP30 9TE