Repairs and Restoration
Repairs and Restoration
Pianos are indestructable and go on for ever...Right?... Wrong!
After so long it is often desirable to carry out more extensive repairs needing workshop attention. This has the potential to be fairly costly, but the difference it can make to a piano can be enormous and will guarantee it lasts much longer. The question I'm often asked is, do I need to have so much done like new soundboards, new wrestplank, new keys, toally new action, polyestering, etc?
At Peter Tryon Pianos we pride ourselves in our honesty and integrity. We will not recommend unecessary work is done, although we love to do a full, full job. For example many pianos suffer from loose tuning pins meaning the piano won't stay in tune. The best way to overcome this is a re-stringing with larger pins to make the tuning stable again. That will cost around £2500 as opposed to a full restoration for around £15-20,000. The price is the same for uprights and grands, Steinways or Challen.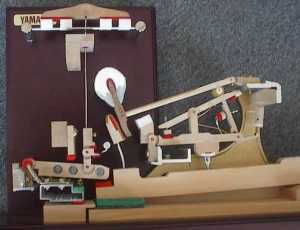 Good piano restoration should be done properly, without cutting corners. I will be honest and tell you if a repair is uneconomic or if I consider the end results will be disappointing. You can't make a £10 piano from ebay sound like a concert grand Steinway! (and believe me....I've tried)!
How often should a piano be re-strung?
Steel piano strings become rusty or tarnished and bass copper strings lose their tension; the sound is dull through age or very damp conditions. A piano should be re-strung every thirty years, although most pianos go way beyond this point.
Re-stringing also addresses the problem of slipping tuning pins when the piano won't stay in tune. However, it extreme cases a new wrest plank (pin block) is needed. This also includes replacing the felt and overhauling the soundboard and bridges.
Action overhauls are less frequent, but this depends on use and environment. e.g moths.
Keys
Although I am happy to replace missing ivories and ebony with second-hand material, I would not use new ivory to recover old keys if asked. Modern grained ivorine key covers are excellent, less expensive and are a good "green" alternative. Plastic keys are cheaper, but I don't think they feel "right".
A fully restored Steinway grand piano
Bluthner Grand Piano during stringing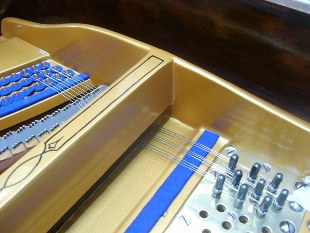 TELL ME ABOUT RESTORATION
Pianos can be restored in sections to avoid a huge bill.
Keys......action........strings..........casework. For one or two the piano need not be moved.
How much does it cost?
It depends on the piano and what is wrong with it. New quality key covers cost c. £400 Re-stringing with new strings, felts, etc c. £2200 Action: From c.£300 - £3000 Casework: For a good wipe over with french polish including sorting out the worst "dings" £1000. More for full jobs and polyestering. Moving costs are extra. There is NO VAT.
Do you give Condition reports/estimates?
Preparing a full condition report and estimate takes about eight hours plus travelling to and from the pianos home. I offer this service free for regular customers but elsewhere in the UK I charge £250 + 50p a mile over 80 miles. This is refundable if the work is carried out.
Is your work guaranteed?
All work is guaranteed for 12 months including parts and labour.
How long will the piano be away?
Due to the artistic nature of the work pianos will need to be away for 4-6 months, depending on what work needs doing. I can hire you a piano while the work is being done.
A fully restored Steinway upright in my workshop for a customer in France. The cost of the full restoration was £9000.
TUNING THE CUSTOMER FIRST AND THE PIANO SECOND!