Repairs and Restoration
Repairs and Restoration
Pianos are indestructable and go on for ever...Right?... Wrong!
Part of a piano tuning visit will include a check of the action and the piano generally. Small adjustments like two hammers rubbing together are regarded as part of the visit and are included.
Some minor repairs can be done at a visit for a small fee, like odd tapes, a broken string or a broken hammer shank.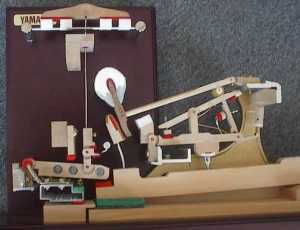 However, most repairs need workshop attention. An action can be taken away. Stringing and most grand work comes to my workshop. Good piano repair is time-consuming work, if done properly, and "cutting corners" is unprofessional. However I will be honest and tell you if a repair is uneconomic or if I consider the end results will be disappointing. You can't make a £10 piano from ebay sound like a concert grand Steinway! (and believe me....I've tried)!
How often should a piano be re-strung?
Steel piano strings become rusty or tarnished and bass copper strings lose their tension; the sound is dull through age or very damp conditions. A piano should be re-strung every thirty years. At the same time new, tighter tuning pins are used, frame felts replaced and the soundboard and bridges, cleaned, reparied and made good. Action overhauls are less frequent, but this depends on use and environment. e.g moths.
Keys
Although I am happy to replace missing ivories and ebony with second-hand material, I would not use new ivory to recover old keys if asked. Modern grained ivorine key covers are excellent, less expensive and are a good "green" alternative. Plastic keys are cheaper, but I don't think they feel "right".
A fully restored Steinway grand piano
Bluthner Grand Piano during stringing